The Meat Cellar, a butcher shop and cafe located in the heart of Claremont, celebrated its first year in business. The atmosphere and food selection is sure to please anyone's palate.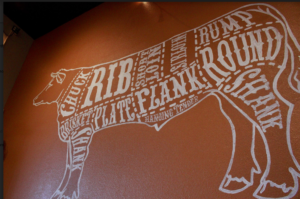 The interior of the cafe immediately draws you in with the art on the walls, including those outlining the cuts of pigs, cows, and chicken. There are also many decorations that are welcoming, the entire restaurant feels like a cozy hipster twist on a butcher shop.
The restaurant has a wide variety of alternative music playing and offer local beers including claremont ales and well as local fruits and vegetables that are for sale. There are also bottled wines that can be purchased spread around the restaurant.
The restaurant's customer service is phenomenal. All of the Cellar's crew were upbeat and ready to start a conversation. They were very helpful with finding the right options specifically for you on the menu and let you know what are other customers favorites.
Staff say the restaurant is "fast casual," meaning guests pick their own seats, grab their own utensils and start their own adventure.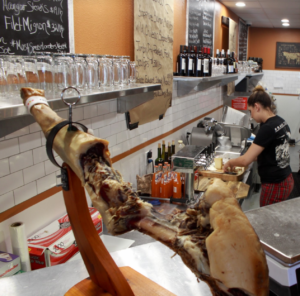 On my first visit to the Meat Cellar I was introduced to a cured ham called Iberico. The meat comes from heritage pigs, which are fed a diet exclusively of acorns, resulting in one of the world's finest cured meats, the taste of the Iberia almost resembles that of sweet candy.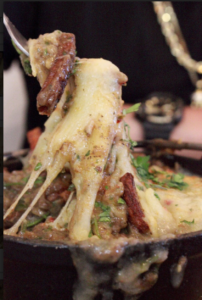 The menu includes appetizers, salads, tacos, sandwiches and steaks. The Meat Cellar also offers a brunch menu that include  Tater Tots Poutine, a French Canadian classic usually served with French fries and gravy with a twist. Twice-fried, the Tater Tots are smothered in a veal gravy cooked with sausage, melted pepper jack cheese, cilantro and thyme seasoning that are blended with the gravy and lastly an over easy egg on top to give it that delicious Sunday breakfast feel.
Another hit is their Caprese Salad. For those vegetarians feeling out of place it will make you feel like you right at home. You will never see tomato and mozzarella the same after witnessing the presentation of this Caprese. The red and white alternating colors with a golden brown drizzle on a glossy white plate make one not what to mess up the display. It is hard not to tackle the plate with your fork when you smell the delicious vinaigrette, which is carefully placed on top. The first bite is soon followed by the last once you try the incredible flavors of this dish.  It proves the Caprese isn't just for vegetarians but also meat lovers.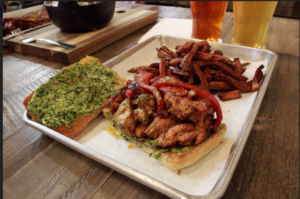 One of the top sellers at the Meat Cellar is the Coachella grilled chicken sandwich. It is prepared with free-range boneless and skinless chicken thighs, topped with roasted red bell pepper strips, a basil/cilantro aioli, all atop on a ciabatta roll. This sandwich was a top seller during this year's Coachella and Stagecoach music festivals with fans of The Meat Cellar coming back for seconds.
The Meat Cellar is a great addition to Claremont's already expansive and varying eateries. With its friendly staff and welcoming atmosphere and terrific service, Executive Chef Anthony Villegas has designed an incredible menu. Though he currently only has 8 tables to serve in the confined restaurant, patrons will soon be able to savor the same delicious flavors in a significantly bigger environment located in Claremont's long-standing Wolfe's Market.
Wolfe's Market lasted 100 years and is now pulling out of the grocery business and giving The Meat Cellar a tenant opportunity. Recurring customers can only hope that the restaurant would live up to it's already successful run and one day celebrate a centennial.