93.5 KDAY has organized their 8th annual Krush Groove event which is dedicated to the sound of old school hip hop and R&B. For all the 90's and early 2000's hip hop and R&B lovers, the opportunity to watch some of the best artists perform their greatest hits has come.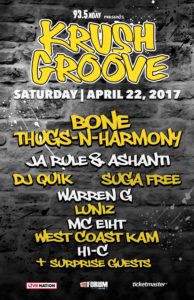 On Saturday April 22 at 6:30 pm; artists such as Bone Thugs-N-Harmony, Warren G, Dj Quik, Luniz, and Suga Free will hit the stage at The Forum located on Manchester Blvd. in Inglewood, California. As guests arrive they are presented with the option of parking on the venues lot at a low cost. The prices range from $10 to $20. Once they have parked, they are required to pass through a metal detector as well as have their belongings searched before they are allowed inside the venue. Tickets will be sold on various websites such as Ticketmaster, Stubhub, Seatgeek, and Vividseats. The price of a single ticket ranges depending on seating. The seating chart is posted on the arenas website.
As a person who has attended the event for the past 3 years, it is safe to say that 93.5 KDAY never fails to please and entertain their guests. Every artist hits the stage with a positive and energetic manner and gets the crowd on their feet.  The feeling of being "back in the days" is projected by the artists and attendees with the culture that they emanate. The environment emitted makes guests feel as one as
they watch, sing, and dance along to all their favorite artists.
The event is definitely different from most shows people attend today. At Krush Groove, everyone is their to enjoy the music. Most people who attend are within the age range of 30-40, setting a mature vibe. The environment is welcoming and the people you get to meet and stand alongside make the experience that much greater. At Krush Groove, you are given the opportunity to relive a time that has passed.  It is definitely an event to remember as it is filled with nothing but good people, good memories and good music.