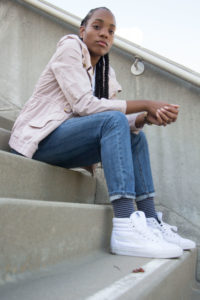 Kyshawna Johnson works the graveyard shift as a security guard throughout the week. She clocks in at 10 p.m. then heads home at 6 a.m. Three hours later, she drives to Citrus College in her maroon Chrysler 200 to attend her mathematics class. A few months ago, Johnson's car was not only used as transportation- it was her home.
Johnson, 22, has faced adversities which have been out of her control, but they have helped shape her into the woman she is today. The doctor who delivered Johnson realized her parents were both struggling with drug addiction and weren't able to take their baby home. Days after Johnson was born, her mother started a court-mandated rehabilitation program. In the meantime, Johnson's grandmother took care of her during the first days of her life.
When Johnson was 5, her grandmother became her legal guardian under the kinship foster care program. Johnson grew up with three brothers under her grandma's roof.
"When I turned 18, she told me that I had to leave because the financial support from the government stopped coming," Johnson said. "That's when the homelessness came about."
Johnson tried reaching out to other members of her family for help, but they always extended excuses instead of open arms.
"My brothers, aunts, and uncles all treat me like an outsider. It wasn't like I could just call on people and be like 'Hey, I need a place to live.' There was always an excuse as to why I couldn't come," Johnson said.
Johnson started to seek out resources and use the benefits she received from the foster care program. She applied for transitional living programs, however, all of her applications were denied. Johnson spent the next two years couch-surfing. She then resorted to living out of her car.
"It was terrifying. It was very uncomfortable. You don't know who's going to knock on your window," Johnson said.
Her car had gotten vandalized a month before she started living in it. She had left her car parked outside a friend's house while she was getting her hair done.
"When I walked out, I saw what had happened. They stole all of my shoes, my clothes, my laptop, my identity- my birth certificate, my passport, my social security card," Johnson said. "It really instilled fear in me because I didn't know if it was going to happen again."
Despite the break-in, Johnson continued to live out of her car for the next six months.
Johnson would park her car and sleep in residential neighborhoods. In the mornings she would shower and wash clothes at Pacific Clinics, a youth drop-in center for homeless or at-risk youth. From there, she would head to school and work.
One of the classes she attends is taught by Nichole Ary, a speech professor at Citrus College, who describes her as "someone who's been through a lot of challenges, but has learned turn them into something positive that she [uses to] encourage others," Ary said.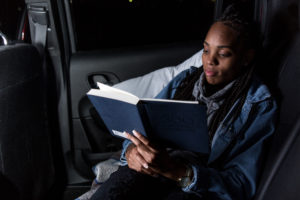 Kyshawna is just one of the many students who has experienced homelessness.
Homelessness affects millions of college students in the United States every year. It is extremely common, however, it is an issue that isn't being talked about. Not because it isn't important but because many
students are afraid to share their story. Johnson is not one of those students.
Although she was living out of her car, her living condition didn't stop her from singing and traveling to do motivational speeches.
Johnson first started singing and giving motivational speeches at her church when she was 12 years-old.
"I saw my neighbors going inside of a school bus, so I ran up to the window to ask where they were headed," remembered Johnson. "They were going to church. So, I asked the bus driver if I could come along.  From that day on, I never looked back."
Johnson travels around the country giving motivational speeches twice a month. She has a relatively large following on Facebook which is how she gets booked.
"I've traveled to New York, Tennessee, Las Vegas… I just came back from Chicago last week," Johnson said.
In 2016, Johnson enrolled at Citrus College to study communications with an emphasis in public speaking. There she discovered Extended Opportunity Programs and Services, a program which helps community college students from economically and educationally disadvantaged backgrounds.
Through EOP&S she met her counselor, Leina Saikli, who is one of the greatest influences in her life.  And it seems like Johnson left a lasting impression with her as well.
"She's amazing, she's very transparent and loves sharing her story," Saikli said. "She's a beacon of light for people."
After meeting to discuss Johnson's classes for the upcoming semester, Saikli asked about her living situation. They sat in Saikli's office making phone calls and researching transitional living programs. The two quickly developed a great student-counselor relationship.
"I can say she kept me focused and encouraged by giving me affirmations of who I was," Johnson said. "Because of her resources and guidance, I got out of homelessness."
One day during Christmas break, Saikli received a call from Johnson- she had been accepted by the Jovenes program and needed help finding an apartment. Saikli talked Johnson through the process of finding and applying for apartments over the phone.
"I'm very ambitious. I don't let obstacles get in my way. I didn't want to settle for being homeless. I didn't think I deserved that, so I fought until I got into a stable home," Johnson said.
A few months later, Johnson was able to pack her belongings from her car and into her new apartment.
"With her transparency and honesty about her situation, about her life, and wanting to do better- she uses it as a method of empowerment to overcome her situation," Saikli said. "It's incredible. I've never seen resilience like that; you don't see that very often."
"I honestly think she's going to change lives. She really does make this world a better place. I'm just waiting for her to be famous one day," Saikli said.
Johnson shares her new apartment with her roommate, Carol, 73. The two have grown close by encouraging each other and exchanging stories. Carol fills the role of a friend and a mother figure to Johnson.
Johnson is also writing two books.
The first is an autobiography titled "The DNA Exchange", which focuses on her personal life, transitioning into Christianity, and how her relationship with God has transformed her into the person she is today.
The second book is "The Pain of a Foster Child" vividly details her experience as a foster child and other former foster children. She offers insights into their shared feelings of rejection, shame and pain.
"Being a foster child shaped me into being a positive person. I grew up feeling very alone and misunderstood. I didn't understand why things were the way they were," Johnson said.
Johnson shares her story of overcoming homelessness with others in hopes of inspiring and encouraging others who have been in her shoes to persevere against all odds.
"Life is a challenge. It's a beautiful challenge," Johnson said. "I have nothing to complain about. I'm alive."