What do we think when we think of fashion? To me, fashion isn't necessarily about what's in Vogue, but fashion stands for complete self-expression and the message of what the person is all about. Fashion is definitely not about a $6,000 handbag or a $600 suit, but it is an interpretation of a person and how they see the world through clothing and accessories. Even if a person isn't interested in fashion whatsoever, the individual still puts on clothes every single day and what they put on tells a great deal of information about them.
Clothing expresses what your favorite music is, what television shows or movies that person is interested in, who they look up to in clothing, and what kind of other interests that they are into at the moment.  Clothing is an absolute conservation starter and here at Citrus College, I am always wondering what made that person pick a particular shirt or sneaker. Why that logo? Why that color combination?
My love for fashion came to me not so long ago. Growing up in a small town, I grew up with little knowledge of style or fashion. During middle school, skater and street clothing had taken over my closet even though I had never skated. It wasn't until high school that I begun to break away for the "norm" of school fashion trends and began my own personal identity with clothing. Experimenting and trying new styles, it all came to me when I started shopping at thrift stores. Being able to see a variety of old and new fashions, I was able to let my imagination run wild. The ability to mix and see clothing that I have never seen in a department store was liberating. Not only did thrift stores contribute to my style but modeling for ten years had a huge impact on me.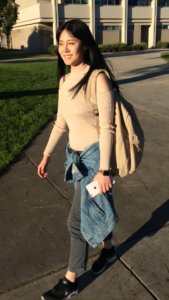 Modeling in New York City and Europe really opened my eyes to beautiful clothes and I really grasped the fundamentals of fashion while learning from stylists and editors who predict future trends for the upcoming seasons. Over the years, my personal style has dramatically changed. I have experimented from thrift store connoisseur to punk. Fashion is a constant experiment. The beauty about fashion is that it is constantly changing just like the individuals who wear them.
While taking the pictures of Citrus students, I asked curious questions about their outfits. Some students said that they really didn't put much effort into their assemble because it was school while other students said they saw a particular item at a clothing store and immediately purchased it. A couple of students wore clothing from a specific store because the clothing represented their personal interests and or what kind of music or musician they are interested in.
Citrus College students and faculty have always inspired me and continue to challenge my personal way of thinking about fashion. There is absolutely no wrong way on how an individual dresses but there are many mindsets that not only diversify our world but completely inspire and challenge our impression on fashion. Citrus is definitely a campus that is made up of many individuals and their fashion follows.