There is nothing more beautiful to me than waking up every morning and looking out my window to see the San Gabriel Mountains alongside my house.
I often find myself sitting on the patio, playing my guitar while I stare at the majestic mountains. They provide me an escape from reality, where I find myself in another world.
These peaceful mountains are at risk of losing their protection status from our new Commander-in-Chief.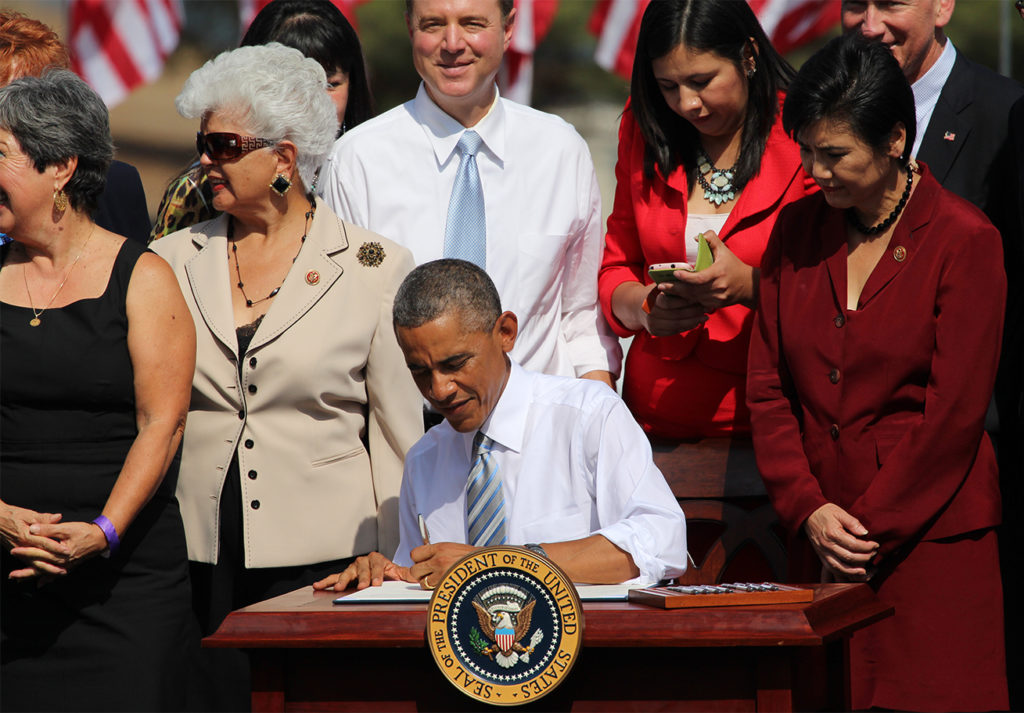 On April 26, President Trump issued an executive order to review 27 national monuments, including the San Gabriel Mountain National Monument, which were protected by former President Barack Obama on Oct. 10, 2014. The order could be an attempt to free up millions of acres of land for oil drilling and fracking.
The order will review any national monument that has been designated since 1996. If the executive order passes, the San Gabriel Valley Mountains and other national monuments like the Sonoran Desert in Arizona, the Mojave Trails in California and the Pacific Remote Islands in Hawaii, could have their protection revoked, allowing the monuments to be resized or modified for oil exploration.
I love everything about the monument. The life, the beauty, the nature. Passing the executive order would take all that away. Wildlife would be driven out of the mountains and oil fracking machines would disrupt the nature and destroy the beauty of it. I can't bare to see that happen to our monument.
The San Gabriel Mountains are beneficial to all life. The deep canyons filled with streams provide habitats for the unique wildlife that call this land their home. It is also a site for recreational activities such as horseback riding, hiking, biking, fishing, off-roading and picnicking.
Only a businessman like Trump would be acting against the Antiquities Act, a law used by presidents to designate public land into national monuments and keep them preserved and protected from commercial development.
No president has ever attempted to weaken the Antiquities Act or revoke national monument designations. In fact, between 1996 and 2017, former presidents Obama, George W. Bush and Bill Clinton protected millions of acres under the same act Trump is now setting for review.  These presidents, from both sides of the aisle, had designated these monuments in an attempt to protect land that was important to the environment, whereas Trump's review and potential rezoning of federal land would destroy the environment through oil fracking.
I would be devastated to find out that the mountains that I love so much, were to become just another housing project, strip mall or oil refinery . These mountains serve our communities, protect our health and support our economy.  They are also popular amongst the four million tourists who visit every year. People come from all over to enjoy the beauty of these Southern California mountains we have taken for granted for years.
Trump has not been shy about the fact that he plans on expanding opportunities for oil drilling and coal mining instead of exploring new alternative forms of energy. If the oil and coal industry were to gain access to the monument, then drilling would inevitably follow. The fossil fuels in the ground make the monument unique and oil fracking would decrease their value.
Environmental concerns will become an issue because the oil extraction process has long-lasting negative impacts on the surrounding environment. Air and water pollution could potentially affect the healths of local residents. In 2015, the Aliso Canyon Gas Leak was harming residents after a gas began spewing out of an oil well. The amount of gas that leaked left a carbon footprint so massive, that it was the largest gas leak in U.S. history. Oil spills from fracking would harm the surrounding vegetation and kill the soil.
Former presidents, like Obama, have spent years trying to phase out fossil fuels in favor of alternative energy sources. By doing so, green jobs employed more Americans than jobs in the coal industry, as reported by The New York Times.
The administration's naive support of coal and fossil fuels could be what is driving the push on this executive order. Trump claims that reviving these archaic, environmentally-harmful industries would create new job opportunities, but this is a short-sighted mentality, putting immediate job growth before long-term environmental effects.
We must take a stand to preserve our San Gabriel Valley mountains. By going online at www.regulation.gov, comments can be made by web or by mail to Monument Review, MS-1530, U.S. Department of the Interior, 1849 C Street NW, Washington, D.C., 20240. Those who wish to comment on the issue have 60 days from May 5 to try and save our mountains.
Together, we can make monumental noise, and save our national monument that is the San Gabriel Valley Mountains.
Its ironic that someone as superficial as Donald Trump can only sees the potential of what is inside these mountains instead of their surface beauty. The possibility of there being oil brings dollar signs to his eyes.