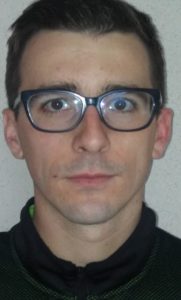 Ryan Tombrello is Citrus College Student that will be attending CSU Fullerton in the fall. College can be a challenge for any young person, but when it is delayed or returned to, the hurdle can feel insurmountable. For one Citrus student, no problem has ever loomed too large, but committing to one task has been difficult.
"It doesn't scare me anymore," says Ryan Tombrello, age 27, "I feel like I have a lot more confidence because I see the importance of it now."
Tombrello is a persistent former DJ that has decided to give college and entrepreneurialism a second shot. He will be matriculating to Cal Poly Pomona in the fall. He is returns to finish a degree in finance after six years of college education. His studies have yielded him little financial return on his student debt, but blessed him with the wisdom of experience.
Tombrello spent nearly all his days in the humble San Gabriel Valley. He grew up in West Covina and attended local Catholic schools. While working at In-N-Out in high school Tombrello made the friendship of Nick Scarim, a DJ from his hometown.
In the 1980s, Scarim was considered a hero of the still fledgling San Gabriel Valley dance club scene. Scarim's musical partnership "Spy vs. Spy" were two local DJ's that had begun their musical enterprise long before House and Dubstep were among the business's hottest genres. Tombrello was inspired. Scarim invited him to shows, set him up with VIP wristbands and smuggled him drinks.
Tombrello and another hometown friend, Stephen Martinez decided early in college to start disk jockeying. Martinez is now a mechanical engineering student and former business consultant. Like Tombrello, he still wears all black and horn-rimmed glasses—a throwback to their DJ days.
"We said let's make a splash in Humboldt, let's get on top of this," Martinez said.
With financial aid money, Tombrello and Martinez purchased large speakers and turntables. They practiced non-stop for a week and threw the first big freshman party of the year.
They would still need more time"It was terrible!" Tombrello said.
But the group had established their reputation on campus. Named after Los Angeles serial killer, Richard Ramirez, "the Nightstockers" band had officially formed.
"We weren't too worried about money," Tombrello says, "We just wanted to have a good time—get hammered."
2 The Nightstockers, Tombrello and Martinez, play to an onlooker.
The two disk jockeys began driving around Humboldt looking for parties. When they arrived, they would offer to play strangers' events for free or in exchange for refreshments.
The ball was rolling. Ryan was given a radio show on KRFH 105.1 FM, Humboldt's college station. He improved his DJ chops and broadened his musical tastes. Ryan would create radio characters on air. He invited friends and local personalities to the studio to tell fabulous tales.
His work paid off in the form of recognition. The radio station hosted events that the Nightstockers would play. Tombrello and Martinez were invited to host two large venues in San Francisco—Milkbar, and then one of the crown jewels of the American club scene, Ruby Skye.
"That show had to be the greatest experience I will ever have musically," Ryan said, "It was the epitome of everything I've ever dreamt about."
While Ryan was developing creatively he was suffering academically. He dropped out of college to work at a local computer repair shop and DJ. He spent four years in Humboldt trying to spark up a music career before returning home to West Covina.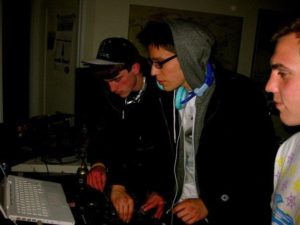 Ryan is modest and mild mannered. His friends unanimously describe him as kind, humble and reserved. It took several interviews for him to even reveal he played music.
"Every time he comes over he goes right upstairs to my grandma and says 'Hi'. That's the type of guy he is. His parents did a good job, that's for sure," said Curtis Corder, a childhood friend of Tombrello.
Corder describes Tombrello as much more of a 'living saint' than he lets on.
"Ryan's always picking her up  his sister and helping out with that when his parents are busy," Corder said.
Tombrello cared for a sister with Down-Syndrome when his family was working or away at school. Ryan's sister, Erinn Tombrello, offered a contrast to his friends' rosy impression.
"Because I'm his sister he's a lot harder on me right now. I think he forgets he used to call me all the time for money," But she relented, "He is always there for you."
Erinn's description of her brother as "critical" reinforces another point about Ryan. He tries to prevent his own challenges from stifling his others. He said he wants them to succeed where he has failed.
To pay down his student loans, Tombrello has been working a tough graveyard shift at In-N-Out since his return to West Covina. Tombrello's coworker, Kory Able notes what a hard worker Ryan is.
"We'll get there at a ridiculously early time—like four in the morning, it's crazy… He'll prep a fuckin' ton of potatoes, bro. Like usually like 10 buckets–75 pound potato buckets."
Tombrello has struggled with indecision in his professional path. Career confusion is common among his generation.  His sister and peers all relayed similar challenges in their own lives.
Tombrello described his efforts at Humboldt State University, "I got the rundown of what I needed and what I had to do—Yeah. Scared the heck out of me and I just kind of backed out of it."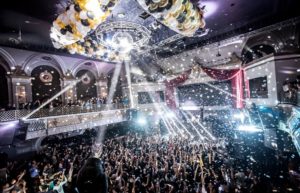 Ryan also feels indecision has affected his personal relationships.
He said, "Dude, I got scared. If I want to keep relationships and stuff, I need to meet people halfway."
Despite his anxieties, Ryan maintains an optimistic view of humanity.
He will study finance at CSU Fullerton in the. He is glad to finally complete his degree. He is excited to be learning more about becoming an entrepreneur.
Tombrello embodies the ambitions and frustrations of many millennials. Student loan debt and underemployment affect millions of them. Though he still looks back nostalgically on his band, his hopeful persistence is contagious. His gentle exterior  masks a torrent of hope.