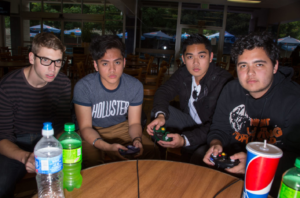 Their blue-lit faces are transfixed to a TV screen as their fingers frantically hammer game controllers. All around players are talking smack and cheering their friends on as all eyes are glued to the images of Super Mario and Bowser battling to the death in a digital coliseum.
This digital bloodsports is just part of the routine fun competition had during "Mega Smash Mondays," a "Super Smash Bros." gaming competition at the eSports Arena in Santa Ana, California. Here, a group of "Smashers," who range from casual players to pros with six figure salaries gather weekly to battle one another on the popular video game.
eSports, short for "electronic sports," is a competitive form of video gaming. But to many college students around the globe, it is more than just competitive gaming. At its core, eSports is a global, young, diverse and passionate community of professional and casual gamers, enthusiasts and collaborators.
Universities across the Southland, such as Azusa Pacific University, Cal State Fullerton and Long Beach, University of La Verne, University of California Irvine as well as UCLA, are among those who started varsity eSports teams on their campuses.
Some colleges have even started to offer scholarships to these competitive gamers including Robert Morris University Illinois who recently announced that they will be giving scholarships that will cover up to 50 percent of tuition and 50 percent of room and board.
"Not every student wants to play football or basketball or hockey," said Nicole Farinella, Robert Morris University's vice president of enrollment in an interview with abc. "This really allows us to broaden that competitive spirit within our students into other areas."
The history of eSports traces back to the 1970's when video game arcades drove local kids to compete against each other's high scores all to see their name on the screen and claim bragging rights until the new first player was crowned.
Friends would invite other friends over to challenge each other in games such as Super Mario Bros, Duck Hunt and Donkey Kong, it didn't take long for corporate sponsored tournaments to begin popping up across the country.
The Citrus College smashers recently started their own program on campus for their weekly dose of Nintendo-based battle. They hope to expand into a club in later semesters so that they can be available to all students.
Founder, Anthony Villegas Jr. built the team based on his passion for competitive gaming and the camaraderie that playing video games with friends builds.
"I love the eSports community, he said. "I wanted to continue competitive gaming as well as give others the same opportunity."
The group's mission statement is to make competitive gaming as accessible as possible to all students on the Citrus College campus. eSports team member, Fernando Rivera, among many other members has had the opportunity to take part of the team.
"Through Smash I've met so many great people, made so many great friends," Rivera said. "It's just an amazing game that's brought on such a following and great community."
The team has given many students from all different majors and programs an outlet to express their commitment and passion for competitive gaming.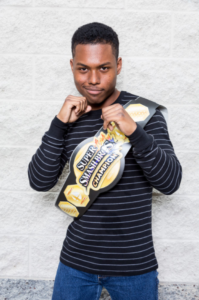 "Actually, it's made me realize how I think and also how much I can be pushed to think as an individual," Josh Cole said.
All of the eSports members started out playing alone in the Handy Campus Center. They played Super Smash Bros. on their Nintendo 3DS' in the Campus Center until they all realized they had a passion for the game.
They started to approach each other and soon realized that they can start tournaments and even a group to share passion for this game.
"I was shown the competitive scene behind Smash. I saw how much more complex and deep the game is. It's always changing and there's always more to be discovered," Rivera said.
Because of the recent renovation of the Campus Center the Smashers have moved below to the Owl Café to continue their virtual fight club. Regardless of the location, every new day walking on campus is always another opportunity to destroy their friends in a competitive environment.
The team meets on Mondays and Wednesdays in the Owl Café eager to battle their friends in between classes. Some bring their own custom controllers to identify what character they "main," or put all their time and focus into perfecting the knowledge and execution of.  
The players get to campus early in the morning to plug in their Nintendo Wii U and flat screen monitor they bring from home. The competitions and casual playing continues throughout the day with teams alternating to allow members time to go to class and finish homework.
While gaming at school has become a favorite pastime among the team, They also enjoy hosting their own tournaments at each other's houses, when they are not attending public tournaments at the Claremont Colleges, LAN Hero, Mega Smash Monday and True Combo Thursday.
The groups model is very similar to the Gamers Guild Citrus College. The Gamers Guild a Citrus sponsored club, six years strong is no stranger to these team building games and activities.
Gamers Guild President Michael Hansen is excited about the beginning of a new gaming club similar to his on campus.
"I feel like there is enough room on campus for both of us,"  Hansen said. "I look forward to see how we can collaborate on endeavors."
Even though the clubs have the same hopes for their students, the eSports club wants to be known as more of the competitive.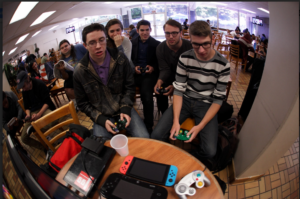 With this season to train, club members hope that they will be competing in full scale collegiate conferences coming in the fall. That would put them in the ranks of nearly 1,000 colleges in the world.
"A lot of schools are adopting eSports teams so it keeps Citrus College up to date with recent trends from schools across the country and helps students succeed in competitive gaming," Villegas said.
The eSports team on campus wants to be seen as an actual competitive team like any other conventional sports team on campus. When the gaming is done for the day, fights are won, and bragging rights are given the group remembers the real reason they came together, for the love of the game.
"At the end of the day we're just a bunch of friends who really enjoy smashing, it's all fun," Villegas said.