Jennifer Ebreo and her husband kissed their 8 year-old son goodbye as they set out for their trip to the Route 91 Harvest Festival in Las Vegas.
Jennifer and Ernesto Ebreo, 27 and their friends are regular attendees. This year they were staying at Luxor Hotel located directly across from the concert venue. She described their getaway as "family style and idyllic. [Route 91] is truly a festival for the fans."
The first day of the festival, her group of friends was at the front of the crowd to see Eric Church during his performance. Ebreo even reached out and touched him. She refuses to have her experience be tarnished by later events.
By the final day of the festival, the group was tired but still looking forward to the unofficial after-party at the Foundation Room in Mandalay Bay where performers and attendees would mingle to end the weekend.
During the break after Jake Owen's set, Ebreo bought a can of tonic water to quell her unsettled stomach and reunited with her friends. They were in the back of the crowd when Jason Aldean finished playing "Any Old Barstool." During the break between songs, she heard three distinct pops.  "Right in front of the stage, you see the smoke," Ebreo said. She recalled smelling the smoke.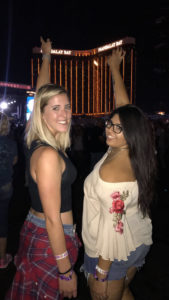 At first, Ebreo thought the pops were fireworks accompanying the music. Aldean began playing "When She Says Baby." Two lines in, Aldean rushed off stage. The rat-a-tat sounded again, and was amplified by the speakers and microphones onstage.
Ebreo realized then the sound was gunshots."[The shots] literally felt like they were coming from everywhere," she said.
The crowd contracted, condensed and expanded. People screamed "gun!" After another round of shots festival goers scattered everywhere, but Ebreo froze in place. Her friends startled her back into consciousness as they ran away from an unknown gunman.
Ebreo clutched her tonic water and ducked periodically. She incoherently texted her husband while racing to an exit. "I thought I was going to die," she said.
Ebreo dropped her tonic water and it immediately got crushed. 22,000 people were frantically running for their lives.
Shots rang through the crowd. Ebreo's husband was taking a nap in their room at the Luxor after enjoying the Golden Knights preseason hockey game. He awakened to jumbled text messages from his wife while she was running to find cover.
"Everyone was hypervigilant about looking out for each other so as not to get trampled," she said. "God had me there [in a safer spot in the back of the crowd]."
Ebreo experienced a moment of clarity while helping another attendee.
There was a woman with dirty blonde hair in a white romper curled up on the pavement. She was rocking back and forth saying "I can't" to herself. Ebreo lifted her, directing her to safety.
Ebreo's friend, Christine Lythgoe, was helping the group get to safety by "directing us like a military sergeant."
Helping another person gave Ebreo a sense of purpose and lucidity during the chaos.
Ebreo and her friends ran to the Desert Rose Resort nearby. They banged on the door of a random suite in hopes of getting out of the chaos happening outside. A startled family cautiously allowed them inside their room.
Ebreo ran straight to the sink to quench her thirst, drinking straight from the tap to assuage her roiling stomach.
The family had no idea what was going on. Everyone who rushed into their room was frazzled, blurting out words like "terrorist" and "gun."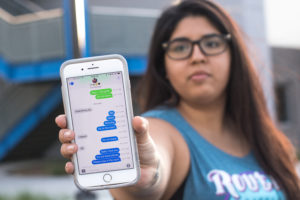 They turned on the television and checked social media. Everyone brought out their phones in search of updates. Ebreo started fielding calls and texts from family, reassuring them of her safety.
The domino effect of hysteria in Vegas led to false reports of multiple gunmen and bomb threats, Ebreo said.
"I had an angel there with me. We each had a guardian angel… I witnessed the most awful thing I will ever witness in my life," Ebreo said. Ebreo's mother died suddenly of complications from liver cirrhosis last year. She believes her mother was her guardian angel during the attack. Ebreo has a tattoo dedicated to her mother Sara Ayala on her left forearm, and plans to add one in remembrance of this event.
This experience brought her and her friends even closer together. They text each other constantly and provide emotional support for one another by talking openly about what they experienced.
Ebreo is availing herself of the mental health services provided at Citrus College and the University of La Verne. She is a psychology major at Citrus College and working on her bachelors in health administration at ULV.
Her wise words were like those of Dumbledore, a character in J.K. Rowling's Harry Potter series. "Happiness can be found in the darkest of times, if one only remembers to turn on the light."
People all over the world have lended support through social media with popular hashtags like #CountryStrong or #PrayforVegas to represent the solidarity in choosing love over hate.
"This is one bad person… there are bad people in this world. But there are way more good people. We're not going to let the bad people scare us into our homes, our holes," Ebreo told her son.
This darkness intensifies the light in the world. Despite the 58 deaths and over 500 wounded, Ebreo recounts a sense of unity throughout her experience. "In the midst of everything, there was so much love, support and humanity."
"The Citrus staff has been so amazingly comforting and understanding during this hard time. It's OK to ask for help, and we have a lot of resources available," Ebreo said.
Those affected by these events can find support at Citrus College's Student Health Center located inside the Student Services building SS 147.
How has this experience changed your perception of the world?
Jennifer Ebreo: It solidified my personal views that we are one human race, regardless of race, gender, or political orientation. I want to be an advocate instead of being silent, [a proponent of] love over hate.
You never know your last day; don't hold grudges, and never forget to say I love you.
How did you talk to your son about what happened?
JE: I've never censored anything from my son, and I wasn't going to start now. He overheard me talking about it, and I never hushed my voice.
[Connor] calls it 'that despicable thing that happened in Vegas' and didn't fully understand [its significance] until friends at school brought it up. Then, we had a talk about it, and he gave me a good hug.
I see that you've attended a candle lit vigil with your husband. What are those like? What does it feel like to visit a vigil when you were there for the attack?
JE: It was surreal. [My husband, son and I] went to the Branding Iron Saloon vigil, where many of the [attendees] went to the festival so it was a very supportive environment.
It was there that I noticed I wasn't the only one who hadn't removed my wristband. We wear it to remember those who didn't get the opportunity to take it off.
This happened a month ago now. Are you still affected by the attack?
JE: I definitely went through a rollercoaster of emotions. One day would be fine, one day would be awful.
It's not as bad as it was when we first spoke [a week after]. That first week, I was sleeping all the time.  I had horrible panic attacks with a pain in my chest. My husband almost sent me to the ER because he thought I was having a heart attack.
I have a hard time being alone now, especially at night. My husband and I were both Lyft drivers, and now I have to be with my mother-in-law when he's out late. My mind goes to dark places when I'm alone.  I started counseling to find coping mechanisms, so I don't hold it in.
I was feeling physically haunted. I would feel the presence of someone while alone. I don't believe in ghosts, so I have to turn the light on [to look and make sure].
At my worst, I told myself it was the people who died [in the attack] and they were mad at me. I felt my life wasn't worth saving, compared to those that were lost.
I still have symptoms of anxiety. My skin feels tight, a tingly feeling in my legs and arms. I'm afraid of the dark, and sounds bother me. If I'm not aware of anything that might sound like gunshots, it startles me.
Do you still keep in contact with other attendees?
JE: Yeah, I do. In my close group of friends, we've gone back into normal conversations. We respect each other's healing process. But I can always call them for help when I'm having a bad moment, and [they'll] understand better than my husband [who wasn't there].
I'm still active in a couple support groups on Facebook. I have to actively go in and look at it, because it had gotten to the point where I was dwelling on it and it wasn't helping. There's a fine line you have to walk while you're healing.
Did you ever find the "woman in the white romper"?
JE: I didn't. I posted in private [survivors] Facebook groups, describing her. I have peace of mind in knowing she was [physically] safe. It was a mental breakdown that was completely normal given the situation.
You mentioned you have sought out therapy. How would you say it's helped in your recovery?
JE: I see a therapist I found at school. In the past four weeks, it's been really nice to talk to someone who validates my thoughts.
It helped me justify my feelings. I was feeling kind of stupid, I was degrading myself [about being] dramatic. I was self deprecating. My therapist helped me realise it's OK to feel not OK.
My Citrus professor has been very helpful. She's been an advocate that it's OK to take your time to heal. It's alright to ask for help, and we have a lot of resources available.