Oy, with the birthdays already!
There is no character in modern television history who helped redefine the "TV single mom" more than Lorelai Gilmore did on the hit comedy-drama series "Gilmore Girls." Equally, there is no actor in the world who could have brought such a smart, witty and charismatic role to life other than Lauren Graham, who is celebrating her 50th birthday today.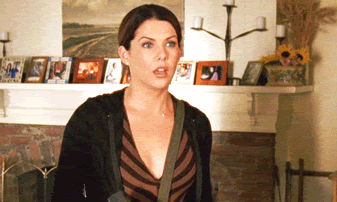 Despite her big-screen appearances in 2003's "Bad Santa," opposite a very inebriated, misanthropic Billy Bob Thornton and 2007's "Evan Almighty" with "The Office" star Steve Carrell, Graham will forever be remembered as the fast-talking, quirky, coffee-addicted mother of Rory on the cherished television series that dominated the WB/CW from 2000-2007. Following the success of "Gilmore Girls," Graham has spent her time away from Stars Hollow, starring on the NBC drama "Parenthood," from 2010-2015, and recently wrote and released published her a memoir, "Talking as Fast as I Can: From Gilmore Girls to Gilmore Girls (and Everything in Between)" just in time as Netflix brought Lorelai, Rory and the cast of the beloved show back for the revival series "Gilmore Girls: A Year In The Life" in fall 2016.
In honor of Graham's milestone birthday, here are a few of Lorelai's most memorable moments and words of wisdom on dating, parenting and of course "coffee coffee coffee!!"
1. "That was a little weird."

When it came to Luke and Lorelai, I could do a whole other countdown of times Lorelai overthought and analyzed every little thing. Although they were friends for much of the series early on, things between them really started to get serious in Season 4. In this hilarious clip from Episode 22 "Raincoats and Recipes" Lorelai takes Rory through a rollercoaster of trying to figure out whats going on, offering all kinds of hilarious insight into dating cues, dancing and even the "Lord of the Rings'" Aragorn before eventually calming herself down but ending the scene in the most Lorelai way possible!
2. "…I just thought you should know."

One of the greatest dynamics on the original show was the tense relationship between Lorelai and her mother Emily. In this powerful clip from the Netflix revival, Lorelai delivers a moving monologue about her deceased father, Richard (played by Edward Hermann on the series, who died in 2014.) Although Lorelai was known for her lightning fast dialogue and humor, this emotional clip shows the incredible acting range and ability Graham brought to the character. *Warning* you may need a tissue after watching (I certainly did).
2.5 "I just wanted to leave you a message."

Ok, I couldn't bring myself to have that heart-wrenching clip be the only Lorelai/Emily exchange on here! As fans of the show know, some of the most hilarious moments on the show were when Lorelai would do things to get under her mother's skin and try to avoid seeing her at all costs (unless it was for the Friday night dinners, of course!) In this clip from the oddball final season that was Season 7 (thank you for coming back ASP!) here is a great example of the humorous side of Emily and Lorelai's insane relationship.
3. "Hey, I can be flexible!"

No description necessary. Classic Lorelai saying what 99 percent of us feel on a daily basis. Also shout out to Luke for not even arguing her on it, what a guy!
4. "If eating cake is wrong, I don't want to be right."

In this minute-long clip from Season 2, Episode 3 "Red Light on a Wedding Night" we learn so much about Lorelai's views on cake, cake ethics, and the value she places her daughter Rory in regards to said cake (spoiler: she REALLY likes cake.) Although the episode resulted in Lorelai not going through with marrying Max Medina (sorry Max!), I'm sure she was totally fine with sampling an endless supply of cakes (seriously, the Gilmore's appetite is the stuff of legends!)
5. "COFFEE, COFFEE, COFFEE!!"

There is probably no one in the world who consumed more coffee on screen than Lorelai. The clip is from Season 5, Episode 5 "Jews and Chinese Food" when Lorelai is forced to find another stop for her morning java fix since she and Luke, the owner of the diner Lorelai has been going to for coffee since the opening shot in Season 1 where she first said her catchphrase "coffee coffee coffee," have a major falling out. Clearly, not everyone in the small town of Stars Hollow knew Lorelai's bit the way Luke did, awkward.
I'm sure there are literally hundreds of more clips that could perfectly sum up the amazingness and hilarious hurricane of pop culture, Lifetime movies and Chinese food cravings that was Lorelai Gilmore. Celebrate Graham's big day with some red vines, wine and Netflix and binge away on all seven seasons and the new revival episodes.